Can I use FusionBot for search & navigation on my eCommerce site?
For stores where search & navigation are an integral part of the sales cycle, FusionBot's eCommerce search may be just what you are looking for.

We all work hard to drive as much traffic as possible to our sites, but what about once they arrive? Are you doing all you can to convert that hard earned traffic into a satisfied customer? What would a 1% improvement in conversion rate mean to your company's bottom line?

FusionBot's eCommerce search is a powerful search and navigation tool for converting more visitors into customers. How? By more effectively connecting your visitors with the most relevant items they are looking for, regardless of the keywords searched or spelling used, improving your conversion rates while reducing your cost of customer acquisition.

FusionBot utilizes powerful ranking algorithms to provide pinpoint precision coupled with millisecond response times. Why settle for anything less? Your visitors wouldn't and neither does your competition.

What can FusionBot's eCommerce search do for you?


Provide filters to refine search results and/or browse by categories
Sort results by any field, including rank, price, stock, etc.
Allow product thumbnails to accompany each matching result
'Add to cart' button integration within results page
Millisecond response times
Advanced ranking algorithms for returning best matches FIRST
Synonym keyword matching
Spell-check & Auto-suggest (Did You Mean?)
Word stemming
Stop Words (Ignore common words)
One match redirect (take visitors directly to item onsite when only a single match exists)
Customizable ranking
SEO: Auto-Generated Most Popular Keyword links for increased traffic
Real time search analytics & and full integration with Google Analytics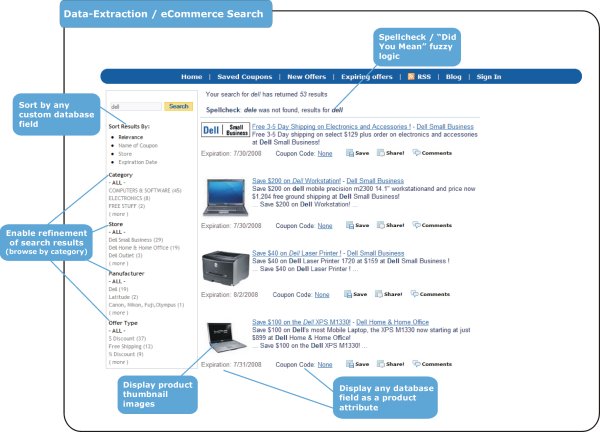 FusionBot's eCommerce search method enables you to define custom fields for displaying specific database type fields as part of each matching result, such as price, sale price, sku, brand, while enabling your visitors to navigate your content by category, brand, price, or whatever fields you specify. You gain BOTH search AND navigation (browse), in a single solution.

For detailed information regarding eCommerce search configuration, please review our e-Commerce Setup Documentation.

After reviewing the eCommerce PDF referenced above, for customers who prefer to implement their extract file in XML format, please reference our XML Syntax Documentation.

eCommerce search with FusionBot can be implemented for as low as $720 / year.

For more information, please contact our Sales Department, we'd be happy to discuss your requirements and recommend a solution that best meets your needs.


If you did not find an answer to your question, please return to the Support Page and fill out the form provided.