Automated User Generated SEO
Drive traffic to your site without lifting a finger (or spending more of your hard earned money)!

Traditionally, implementing a search engine for your site helps convert visitors into customer by enabling them to find what they are looking for effectively, but what about getting traffic TO your site in the first place? FusionBot can help with this as well.

Your FusionBot search box serves as an invaluable automated feedback mechanism for understanding what people or looking for at your site, and more importantly, what they are searching for most often, and we can use this knowledge to your advantage!

FusionBot's User Generated SEO feature puts your visitors to work for you!

FusionBot's User Generated SEO Links work by automatically analyzing your daily search traffic, discerning what are the most popular keywords searched by your visitors, and turning those keywords into "static in appearance" search engine friendly links to be indexed and made searchable by the major search engines.

How is this beneficial?

If people are searching for certain keywords more frequently on your site, these same keywords are logical choices for what people may be searching for on the web-at-large as well, and when they search for those keywords, FusionBot assists in positioning your site favorably in the web search engine results.

This brings your search implementation full circle, assisting visitors on your site with quality search and navigation, while at the same time, helping to increase traffic to your site. It's the best of both worlds.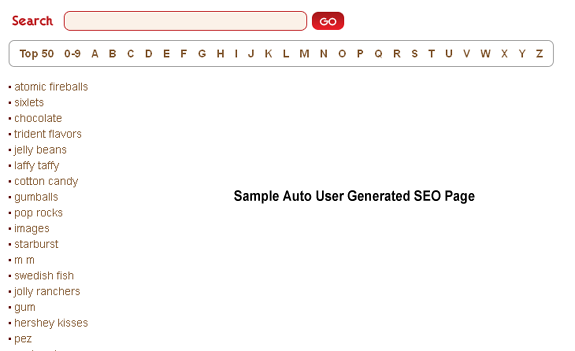 Want more information? Contact our sales department and a representative will return your inquiry as soon as possible.